News Burst 30 January 2020
Clicks on the Ads Keep Us Alive 🙂
News Burst 30 January 2020
Interesting recently unsealed DOJ indictments with links to Wuhan and curious research that Epstein was interested in… "The Department of Justice announced today that the Chair of Harvard University's Chemistry and Chemical Biology Department and two Chinese nationals have been charged in connection with aiding the People's Republic of China. Dr. Charles Lieber, 60, Chair of the Department of Chemistry and Chemical Biology at Harvard University, was arrested this morning and charged by criminal complaint with one count of making a materially false, fictitious and fraudulent statement. Lieber will appear this afternoon before Magistrate Judge Marianne B. Bowler in federal court in Boston, Massachusetts. Yanqing Ye, 29, a Chinese national, was charged in an indictment today with one count each of visa fraud, making false statements, acting as an agent of a foreign government and conspiracy. Ye is currently in China. Zaosong Zheng, 30, a Chinese national, was arrested on Dec. 10, 2019, at Boston's Logan International Airport and charged by criminal complaint with attempting to smuggle 21 vials of biological research to China. On Jan. 21, 2020, Zheng was indicted on one count of smuggling goods from the United States and one count of making false, fictitious or fraudulent statements. He has been detained since Dec. 30, 2019." What is the Professor's area of expertise? "The next frontier is really the merging of human cognition with machines," Patel said. He and Lieber see mesh electronics as the foundation for those machines, a way to design personalized electronic treatment for just about anything related to the brain."
An Australian pedophile who was based in Singapore and sexually abused dozens of children around Southeast Asia has been jailed. Boris Kunsevitsky was sentenced by a Melbourne court on Wednesday (Jan 29) to 35 years in prison, after he pleaded guilty to sexually abusing children for more than 15 years and producing child pornography material in which he induced children to have sex with other children.
Russian President Putin has pardoned Israeli backpacker, Naama Issachar, who was sentenced to 7.5 years in prison for possession of a small amount of marijuana. This is the first time that a Russian president has ever granted a pardon to a foreign-citizen prisoner.
"I'm offended and shocked that Schumer would be so scurrilous as to accuse the president and his children of making money illegally off of politics when the only people we know have made money off of this have been Hunter Biden and Joe Biden," Rand Paul.
"John Bolton is making money as we speak. He has probably already gotten the several million dollar advance for this book. He's making money by testifying against the president." Rand Paul.
Three Japanese citizens among more than 200 evacuated from China have tested positive for the new Coronavirus. The three evacuees raise the number of cases in Japan so far to 11, including two people who appear to have contracted the virus without travelling to China.
Weekely Asteroid
2018 AL12 2020-Jan-30 18.2 Lunar Distance 17.7 km/s 39 m.
2020 BZ4 2020-Jan-31 5.7 Lunar Distance 9 km/s 11 m.
2017 AE5 2020-Feb-01 13.6 Lunar Distance 9 km/s 123 m.
Sun Activity
Solar activity remains very low despite the presence of an old-cycle sunspot (AR2757) in the sun's northern hemisphere. There is a chance that a solar wind stream will hit Earth's magnetic field on Jan. 31-Feb. 1 when a shallow hole in the sun's atmosphere moves into geoeffective position. Enhanced Arctic auroras are possible at that time.
Strongest EQ in Europe M5.9 Rodhos, Greece
Strongest EQ in US M3.5 California
Strongest EQ on the Planet M7.7 Cayman Trench
Deepest EQ M3.1 239 km Argentina
News Burst January 30 2020 Bonus Img
A new type of aurora is rippling across Arctic skies. Citizen scientists who discovered it nicknamed it "The Dunes" because of its resemblance to desert sand dunes. Dune-shaped auroras form in a narrow altitude range 80 km to 120 km above Earth's surface. Turns out, this is an extremely hard-to-study layer of Earth's atmosphere. It's too high for weather balloons, and too low for rockets. "Due to the difficulties in measuring atmospheric phenomena between 80 and 120 km, we sometimes call this region 'the ignorosphere'," says Minna Palmroth, Professor of Computational Space Physics at the University of Helsinki and the lead author of the study. spaceweather.com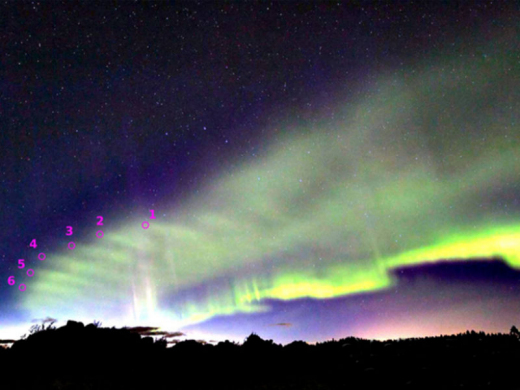 Clicks on the Ads Keep Us Alive 🙂
Love
To fear love is to fear life, and those who fear life are already three parts dead.
Bertrand Russell
2020 Server Cost Support - 3200 €

45%

45%
Support Disclosure News Italia
We are working hard, and every day, to keep this blog. Like you we are fighting for the truth. If you want to work with us you are welcome, please email us! The blog costs are at our expense, advertising reimburse us very marginally so if you like our work and find it useful buy usacoffee clicking the donation button below that will directu to your PayPal. We need the help of people like you!
Bitcoin & Cryptocurrencies Donation
1M9dohWnHBwNLSPd6afRaJackrw6wK9bxY