Clicks on the Ads Keep Us Alive 🙂
News Burst 2 June 2020
With over 1 million downloads, the Remove China Apps application developed by Jaipur-based startup OneTouchAppLabs has become the top free app on Google Play Store in just 10 days. As the name suggests, the app allows users to delete all applications developed in China. It scans the user's phone and lists the apps developed in China. After this, the user can decide which app to keep and which to remove. Satyajit Sinha, cyber security researcher at Counterpoint, explains that the Remove China Apps app just identifies the app developer's country of origin by comparing it with the repository database of apps developed in China. Sinha says the app is safe to use and one shouldn't worry about downloading it on their Android smartphone. "The app scan focused on the installed android application package (APK) only. Hence, it doesn't affect any change in stored personal data."
China has unveiled a package of special policies for Hainan, including scrapping import duties, in an effort to turn the tropical island into the mainland's answer to Hong Kong or Singapore and dampen the risk of decoupling with the United States. Beijing on Monday outlined its plan to make the 35,000 sq km island a "free trade port" by lowering the income tax rate for selected individuals and companies to 15 per cent, and relaxing visa requirements for tourists and business travellers. The island province of 9.5 million people will also enjoy freedoms in terms of trade, investment, capital flows and the movement of people and data by 2035, as it moves toward becoming a hub of "strong international influence" by the middle of the century. The project to make Hainan, which covers an area 30 times that of Hong Kong, into a regional trade, shopping and shipping centre has been "planned, arranged and promoted by General Secretary Xi Jinping personally", according to the government statement.
Frustrated Civil Rights Leaders Say Mark Zuckerberg 'Lacks The Ability To Understand' Race Issues. Now, the Facebook CEO is taking heat from civil rights leaders after spending nearly an hour on the phone to discuss 'ongoing issues around his company's policies as they relate to race, elections and other topics,' according to Bloomberg, who said that participants were left disappointed. Rashad Robinson, president of civil rights group Color of Change, told the outlet that Zuckerberg is clueless when it comes to racial issues. In an interview with Bloomberg News immediately after the call, Robinson said that "the problem with my ongoing conversations with Mark, is that I feel like I spent a lot of time, and my colleagues spent a lot of time, explaining to him why these things are a problem, and I think he just very much lacks the ability to understand it."
"His employees are outraged," said Robinson. "I've got outreach from some of them. Saying Black Lives Matter, saying I'm going to give money, but having your policies actually hurt black people, people will know the difference." Some of the company's senior staff have taken to Twitter to make their discontent public.
Between low demand, soaring inventories, depressed prices, a global pandemic, and now, hurricane season, it seems a perfect storm is forming around the offshore oil industry. The world's offshore oil market, responsible for 30 percent of all the world's oil production, is facing an impossible set of challenges. The crisis has pushed much of the world's oil production onshore in favor of more flexible rigs and lower operational costs. Many new offshore projects have even been put on hold as the new reality of the oil market sets in. Companies are now scrambling to suspend federal lease deadlines as the near-term looks increasingly uncertain. The industry's growing troubles come just as Royal Dutch Shell was forced to airlift a number of coronavirus-infected employees from one of its offshore platforms, highlighting the risks associated with confining workers on offshore rigs during a pandemic. And Shell isn't the only company grappling with outbreaks. In recent weeks, hundreds of workers at offshore rigs in the Gulf of Mexico, the North Sea, Mozambique, Canada, and Kazakhstan have been infected with COVID-19. The outbreaks add to the growing list of trials and tribulations the offshore industry is grappling with.
Nine people sent to police custody after they were caught gambling in Kathmandu hotel. "Majority of the arrestees are business persons," said DSP Raj Kumar KC, spokesperson for the Kathmandu Metropolitan Police Range. A police team had arrested the group on Monday evening from Gangaur Regency Boutique Hotel in Kamaladi. "Police have confiscated Rs 277,000 cash and 171 gambling chips from the suspects," said KC. "The majority of complaints related to gambling are received either from the family members or acquaintances of the gamblers," said SSP Sushil Kumar Yadav, spokesperson for the Metropolitan Police Office, Ranipokhari. "The money seized by police from the gamblers goes to the government's funds."
A bird may have caused a plane from an elite Canadian air force aerobatics team to crash, resulting in the death of one team member and injury to another, the defense department said Monday. The aircraft — part of the team known as the Snowbirds — crashed into the front yard of a house in British Columbia shortly after taking off from Kamloops Airport late morning on May 18. In a preliminary report, the Department of National Defence's Airworthiness Investigative Authority said it had obtained video footage that revealed "one bird in very close proximity to the aircraft right engine intake during the critical post take-off phase.
Twitter said it is "actively investigating" the #dcblackout hashtag after online accounts pushed false and misleading tweets during a night of unrest in Washington over the death in police custody of George Floyd. Twitter said it has "suspended hundreds of spammy accounts" under its platform manipulation policy. A spokesman for the company also said, "We're taking action proactively on any coordinated attempts to disrupt the public conversation around this issue." Many of the accounts tweeted about a supposed communication blackout that occurred between 1:00 and 6:00 am. However, Alaina Gertz, spokeswoman for the Metropolitan Police Department said, "This appears to be misinformation. We have no confirmation of a cellphone blackout." Other tweets shared an image of a major fire next to the Washington Monument, but a reverse image search revealed that the picture was a scene from the American television program "Designated Survivor" which was set in Washington.
Emergency workers were searching for seven people still missing Monday as El Salvador and its Central American neighbors picked through the destruction after the first named Pacific storm of the year left at least 18 people dead. Rescue teams were trying to locate the missing in floodwaters caused by torrential rain and high winds after Storm Amanda swept in from the Pacific on Sunday, El Salvador's Interior Minister Mario Duran said. "We have 15 people dead and seven missing," Duran told reporters. Some 7,225 people were evacuated from high-risk areas, soldiers and civil protection workers transferring them to 154 shelters set up throughout the country. The environment ministry said the rains had left up to 500 millimeters of water, almost a third of the yearly average of 1,800 mm. Many areas were left without power or drinking water and vulnerable to landslides.
Ten Colima state police officers went missing after escorting a group of businessmen to the municipality of La Huerta in the neighboring state of Jalisco, Mexico. Authorities in Colima on Monday found a vehicle containing the dismembered remains of seven bodies believed to be those of a group of officers who disappeared in neighboring Jalisco last week. Ten Colima state police officers were ambushed and kidnapped in Jalisco on Thursday after escorting a group of mining executives to the municipality of La Huerta. The bodies were found in a white Chrysler Pacifica near a soccer field in the community of Cedros, north of Manzanillo, the capital of Colima, after police received a 911 call about an abandoned vehicle with a strong odor coming from it.
Archeologists have now found a skeleton in the suspected Viking-era tomb a Norwegian couple discovered last week under their house — but the bones have been broken into pieces. Mariann Kristiansen from Seivåg near Bodø was pulling up the floor of her house with her husband to install insulation last week when they couple found a glass bead, and then a Viking axe. "We have found several bones, and bones from a human," archaeologist Jørn Erik Henriksen from Tromsø University told Norway's state TV station NRK. "We do not know when the grave was given this treatment, but everything indicates that it must have happened long before the house was built in 1914."
Fahrudin Radoncic, Bosnia and Herzegovina's Minister of Security who has taken a tough line on deporting illegal migrants, announced his resignation today, at a meeting of Bosnia's Council of Ministers today. He cited "political differences on strategic issues" with his colleagues in the government, including in relation to his intended deportations of migrants, as one reason for his departure, according to a report by Balkan Insight. Radoncic had announced in April that he intended to deport all of the approximately 10,000 illegal migrants Bosnia is currently hosting in its camps, apart from actual Syrian war refugees, as previously reported by Voice of Europe. He declared that his country would not be "a parking lot of migrants for Europe." Migrants end up in Bosnia as they follow the Balkan migration route from the European countries along the Mediterranean, where they cross illegally from Africa and Turkey. They end up in camps along the Croatian border, looking to eventually be able to find a way to cross it and thus end up in the European Union, where they hope to make their way to richer pickings in the nations of northwestern Europe. Radoncic had accused Pakistan's ambassador of blocking efforts to establish the identities of Pakistani migrants in Bosnia, which is a necessary part of the deportation procedures. He had even threatened to declare the ambassador "persona non grata" if he did not cooperate more fully. "I think that Radoncic did his job extremely well and bravely," said Vjekoslav Bevanda, the country's Minister of Finance. "He was one of the few people who adhered to principles."
Wildlife authorities in Botswana have reported at least 110 mysterious elephant deaths in the northwest part of the country – a jump from the 56 carcasses discovered as of an earlier announcement in May. However, anthrax and poisoning were recently ruled out as causes behind the animals' deaths. "I would say 90% of the new cases we have found are old carcasses we previously did not locate," Dimakatso Ntshebe, a regional wildlife director, said in a recent interview with Bloomberg. "However, a few are indeed new deaths. All recovered carcasses do not show signs of poaching." Last year, Botswana President Mokgweetsi Masisi lifted a hunting ban to prevent the 135,000 elephants in the country from damaging crops and sometimes trampling residents.
Carcass samples are also being sent to a laboratory in Zimbabwe to determine the cause of the deaths. However, the COVID-19 pandemic could cause delays in receiving testing results. Ntshebe also warned that more elephant deaths could occur. "We are still experiencing elephants dying in the Okavango Panhandle," the wildlife official said, also noting that tusks have been removed from the dead elephants.
"We have started removing the tusks in the dead elephants, and we have started burning the carcasses," Ntshebe said, reported Big News Network."We have started with those [carcasses], which are close to the villages, and those that are lying in the water. The idea is to burn as many carcasses as possible. However, we have a challenge since some of the carcasses are in areas which are difficult to reach." The majority of the world's African elephants live in Southern Africa, where Botswana is located.
Sun Activity
All space weather is calm but there is Another active region cresting into view over the limb of the Sun. We are monitoring it for larger flares and CMEs.
Active Weather
Cyclonic Storm Nisarga, Arabian Sea off the Coast of Mumbai, India – Moving N 7 kts – w/v 40 kts 998 hPa Intensifying.
Strongest EQ in Europe M4.1 Romania
Strongest EQ in North America M3.9 Nelson Lagoon, Alaska
Strongest EQ on the Planet M5.0 South sandwich Islands
Deepest EQ M4.3 497 km Tonga
News Burst 3 June 2020 Bonus Img
Venus
On June 3rd, Venus will pass almost directly between the Earth and the sun. This is having a strange effect on the planet's shape. "It is like a ring of fire," says Didier Favre, who sends this picture from Brétigny-sur-Orge, France. Why does Venus look like a ring? Simple: The planet's nightside is facing Earth. Sunlight filtering through the edge of Venus's carbon dioxide atmosphere forms a luminous ring around the dark disk. Astronomers call this an "inferior conjunction of Venus," and it's one of the best in decades. At closest approach on June 3rd, Venus will be 29 arcminutes (about half a degree) from the center of the solar disk. Only twice since 1961 has Venus come closer–during the famous Venus Transits of 2004 and 2012. Observing Venus at this time is dangerous. With the sun just a fraction of a degree away, it is easy for stray sunlight to sneak into optical systems, damaging sensitive electronics and hurting human eyes. Only skilled observers taking careful precautions should attempt it.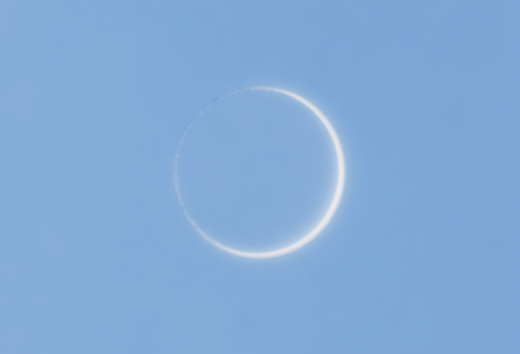 News Burst 3 June 2020 Bonus VIDEO
Cyclone Nisarga
The India Meteorological Department (IMD) Tuesday said that Cyclone "Nisarga" is very likely to intensify into a "severe cyclonic storm" over the next 12 hours and cross Maharashtra and South Gujarat coast on Wednesday. The cyclonic storm will cross North Maharashtra and adjoining South Gujarat coast between Harihareshwar and Daman, close to Alibaug (in Maharashtras Raigad), on June 3 as a severe cyclonic storm with a maximum sustained wind 100-110 gusting to 120 kmph, an IMD official said. Hard times for Mumbai Airport today.
News Burst 3 June 2020 Bonus VIDEO
No Meal
While the game of hunt and prey is inevitable in the wild, it can look brutal to humans. In one such scenario, a man almost picked a fight with a fully grown snake to rescue a deer from its clutches. In the video, shot in India's Jim Corbett National Park, a snake can be seen choking a deer to death by coiling around it on the side of a road. A man turned out to be the savior of the animal as he hit the reptile with a tree branch, forcing the snake to leave its prey and flee the scene. Deer is safe but python is empty stomach, is that right?
Former Reddit CEO Ellen K. Pao admitted in a Sunday night tweet that she knew about Jeffrey Epstein 'madam' Ghislaine Maxwell procuring underage girls as far back as 2011. In response to a tweet in expressing relief at never having been photographed with Maxwell, Pao replied: "She was at the Kleiner holiday party in 2011, but I had no desire to meet her much less have a photo taken with her. We knew about her supplying underage girls for sex, but I guess that was fine with the "cool" people who managed the tightly controlled guest list". Shortly after sending the tweet, Pao locked her Twitter account.
The German state of North Rhine Westphalia has uncovered an enormous pedophile ring of at least 30,000 pedophiles who share child pornography and exchange advice regarding how to drug and rape babies and young children.
This is a small Pleiadian Craft, sized for 1-5 occupants, recently seen in South Carolina. Look closely and you'll see a lot of detail. This will all increase exponentially and it's all being done to make people ask more questions, to awaken us more.
Clicks on the Ads Keep Us Alive 🙂
Make New Mistakes
I hope that in this year to come, you make mistakes. Because if you are making mistakes, then you are making new things, trying new things, learning, living, pushing yourself, changing yourself, changing your world. You're doing things you've never done before, and more importantly, you're Doing Something. So that's my wish for you, and all of us, and my wish for myself. Make New Mistakes. Make glorious, amazing mistakes. Make mistakes nobody's ever made before. Don't freeze, don't stop, don't worry that it isn't good enough, or it isn't perfect, whatever it is: art, or love, or work or family or life. Whatever it is you're scared of doing, Do it. Make your mistakes, next year and forever.
Neil Gaiman
2020 Server Cost Support - 3200 €

79%

79%
Support Disclosure News Italia
We are working hard, and every day, to keep this blog. Like you we are fighting for the truth. If you want to work with us you are welcome, please email us! The blog costs are at our expense, advertising reimburse us very marginally so if you like our work and find it useful buy usacoffee clicking the donation button below that will directu to your PayPal. We need the help of people like you!
Bitcoin & Cryptocurrencies Donation
1M9dohWnHBwNLSPd6afRaJackrw6wK9bxY