News Burst 15 February 2020
Clicks on the Ads Keep Us Alive 🙂
News Burst 15 February 2020
The US Education Department announced that it has launched an investigation into Harvard and Yale universities on suspicion of failing to report "hundreds of millions of dollars in foreign gifts and contracts" from China and other countries.
Residents of Göle, a town in Turkey's northeastern Ardahan province, suffered record breaking temperatures of minus 40 degrees this week, while heavy snowstorms battered the eastern half of the country. The freezing temperatures and blizzards also cut off access to many regions, such as an area in Van province's Çaldıran district where 13 migrants remain missing, presumed dead.
Reports from Rasht Nortern Iran indicate that due to heavy snow, roads have been blocked with locals forced to stay at home without power. Locals say snow was forecasted from 2 weeks ago, but no preparations were taken to prevent the crisis.
Residents of central and southern Iraq opened their curtains Tuesday morning (Feb. 11) to an incredibly rare scene — the first "settling" snowfall in over a century.
Over 1,700 Chinese medical professionals have been infected with novel coronavirus, six of them have died, China National Health Commission Vice Minister Zeng Yixin informed during Friday's press conference.
Beijing's purge of officials in Hubei province picked up pace with the removal of the top Communist Party leaders in the region as the central government responded to public anger.
In a twist of grim irony, the 59-year-old Iraqi immigrant and father of seven, who instituted a sadistic reign of religious terror within his family, was previously praised for "fighting extremism" and running his mosque in Sweden's southernmost Skåne County with "zero tolerance for extremism", has been senteced 8 years behind bars. The sentence came after his family testified about a reign of terror driven by the so-called Muslim honour culture. By their own admission, Darragi habitually exposed his family to abuse, unlawful coercion and death threats, which left them "terrified and crying".
The Marine Drive police on Friday arrested a 19-year-old youth for allegedly breaking into the house of a businessman in south Mumbai, India. The youth had passed out on the couch after drinking one-and-a-half-bottles of champagne. "The cops were called and the kid was taken into custody. During the probe, he confessed that he had entered the house illegally to steal valuables but could not resist after seeing two bottles of champagne," the officer said.
Royal Caribbean Cruises Ltd. appears to have finally made the right call on Thursday evening after it announced it would suspend 18 lines. The short-term impact is a 65% on earnings for the year, but at least it would prevent further spreading of the virus and limit PR disasters such as what's happening on Carnival Corp.-owned 'Diamond Princess' – the ship currently trapped in Yokohama, Japan with more than 174 infected.
Cleaners wearing hazmat suits disinfected a 37-storey tower block in London, where a resident with a fever was escorted from in an ambulance.
Heathrow was gripped by coronavirus fears with up to eight planes put on lockdown after passengers on board complained of tell-tale symptoms.
Two MPs have today revealed they have gone into 'self-isolation' after attending a Westminster bus conference that was attended by one of the UK's nine coronavirus patient and 250 other delegates.
While Attorney General William Barr continues his investigation into Russiagate for which Sen. Lindsey Graham (R-SC) said 'half the people are going to jail' if we 'just hang tight,' Democrats across the board are calling for his resignation – or impeachment, following his decision to overrule federal prosecutors on their recommended sentence for former Trump adviser Roger Stone. There's also been talk of a second Trump impeachment over allegations that he interfered in Stone's case, according to Fox News. Democrats' freakout over Barr's intervention in the Stone case comes on the heels of their last freakout over Barr's willingness to accept information from Rudy Giuliani gathered during the course of his independent Ukraine investigation.
The US District Court of Manhattan has found attorney Michael Avenatti guilty of all three charges regarding his attempt to extort $25 million from multinational athletic apparel company Nike. Avenatti was convicted on Friday of one count of fraud and another two counts of extortion after prosecutors alleged the 48-year-old lawyer attempted to extort $25 million from Nike after defrauding a client over improper payments to families of college basketball recruits. The attorney faces a statutory maximum of 20 years behind bars. Sentencing is slated for June 17.
Weekely Asteroid
163373 2020-Feb-15 15.1 Lunar Distance 15.2 km/s 589 m.
2018 CW2 2020-Feb-17 6 Lunar Distance 10.2 km/s 28 m.
LD > Lunar Distance = 384,401 km
Sun Activity
Sunspot number: 0
Spotless Days
Current Stretch: 12 days
2020 total: 28 days (62%)
Strongest EQ in Europe M4.8 NE of Crete, Greece
Strongest EQ in North America M4.6 NW Vancouver Island, Canada
Strongest EQ on the Planet M5.5 Pacific-Antarctic Ridge
Deepest EQ M4.5 335 km Banda Sea, Indonesia
News Burst 15 February 2020 Bonus Img
This January 1, 2019 image from NASA shows Arrokoth, the farthest, most primitive object in the Solar System ever to be visited by a spacecraft. Astronomers reported Thursday, February 13, 2020 that this pristine, primordial cosmic body photographed by the New Horizons probe is relatively smooth with far fewer craters than expected. It's also entirely ultrared, or highly reflective, which is commonplace in the faraway Twilight Zone of our solar system known as the the Kuiper Belt.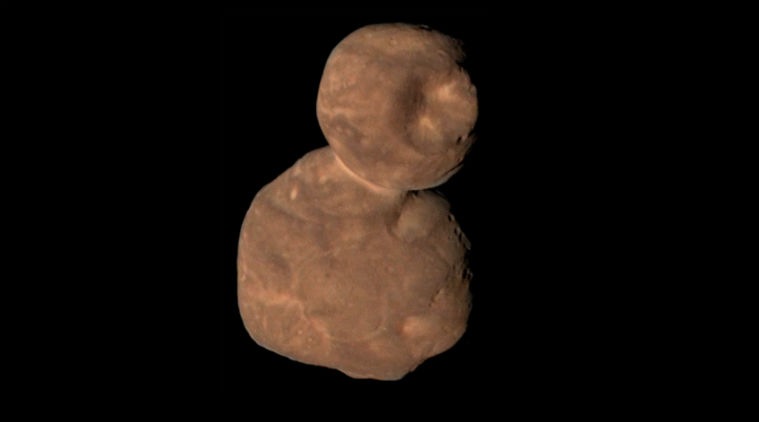 News Burst 15 February 2020 Bonus VIDEO
Las Vegas/Nellis AFB – 11 Dicembre 2019
Via NEIOH – Questo è un esempio di Nave Madre che in realtà qui non si vede ma ha un diametro di circa 240 metri. È fuori immagine perché e invisibile a causa di operazioni multi-task. La Nave madre e gli occupanti sono consapevoli di essere visti e lo consentono.
News Burst 15 February 2020 Bonus VIDEO
Las Vegas/Nellis AFB – 12/11/19
The smaller Craft will re-enter the Mothership and the Light Sphere is very intricate although the viewer can't detect this. The Sphere is taking pictures, measuring Vibrational Frequency and is unoccupied. It is totally controlled by the Craft that is visible.
These Operations are ongoing and White Hats on the ground are fully aware. ~ Neioh
These aren't helicopters or military aircraft, but real ET Craft, piloted by ETs, working with US Military. This is all being allowed for us to see. This is Disclosure.
Clicks on the Ads Keep Us Alive 🙂
All Together
And all together, all the voices, all the goals, all the wishes, all the pains, all the joy, all the good and the evil, all together was the world.
All together was the river of the becoming, it was the music of life.
Hermann Hesse
2020 Server Cost Support - 3200 €

80%

80%
Support Disclosure News Italia
We are working hard, and every day, to keep this blog. Like you we are fighting for the truth. If you want to work with us you are welcome, please email us! The blog costs are at our expense, advertising reimburse us very marginally so if you like our work and find it useful buy usacoffee clicking the donation button below that will directu to your PayPal. We need the help of people like you!
Bitcoin & Cryptocurrencies Donation
1M9dohWnHBwNLSPd6afRaJackrw6wK9bxY