News Burst 11-12 July 2020
Clicks on the Ads Keep Us Alive 🙂
News Burst 11-12 July 2020 – Featured News
A man has been jailed for attempting to steal a "priceless" version of Magna Carta from Salisbury Cathedral, UK. Mark Royden was sentenced on Friday at Salisbury Crown Court to four years for the attempted theft, which took place in October 2018. The 47-year-old used a hammer to smash a protective case around the 805-year-old document but failed to take it. He was arrested after being chased and detained by "good-spirited" members of the public. Royden, from Canterbury in Kent, was found guilty of attempted theft and of causing criminal damage.
A firearm was discharged inside bar Pataässä on Snellmanninkatu in Helsinki before 10pm on Wednesday. Both YLE and Helsingin Sanomat have reported that one person has been taken to a hospital with a gunshot wound. The police officers brought four people in their late teens and early-to-mid 20s into custody in the bar and its vicinity on suspicion of aggravated assault. They have since been interrogated and released from custody. Also the unlicensed firearm used in the incident was discovered near the establishment, but the police have yet to determine how and where it was obtained."The unlicensed small-bore weapon was carried by a man born in 1994. He managed to discharge the weapon while twiddling it in the pocket of his trousers. The victim was sitting nearby and the bullet hit him in the thigh." The suspect sneaked out of the restaurant after the incident and hid the firearm nearby. The incident is being investigated as grossly negligent bodily injury, firearm offence and imperilment. The shooting came as a complete surprise to the victim. The investigators are presently unaware of any interaction between him and the offenders before or after the incident.
Namibia has recorded a drastic drop in rhino and elephant poaching cases in the past three years because of improved response mechanisms, the government said yesterday. Minister of environment Pohamba Shifeta said the country has seen a reduction in rhino poaching numbers from 78 cases in 2018, 49 in 2019 and 17 so far this year. For elephants, the minister detailed a reduction from 27 in 2018, 13 in 2019 and two so far this year.
A Nigerian influencer who posted photos of his life of luxury amassing 2.5 million Instagram followers was kidnapped by the FBI from Dubai, his lawyer has claimed. In June Ramon Olorunwa Abbas – known to his followers as Ray Hushpuppi – and another man – Jacob Ponle (aka Mr Woodberry) – were both arrested in Dubai under suspicion of a £350 million cyberscam. The FBI and Dubai police stormed the 37-year-old's apartment in the city seizing more than £30 million in cash, before the pair appeared in a Chicago court on July 3. However, the United Arab Emirates has no extradition treaty with the United States, and Mr Abbas' lawyer – Gal Pissetzky – has said that the FBI and U.S. government acted illegally in transporting him from Dubai. 'In my opinion, the FBI and the government here acted illegally when they kidnapped him from Dubai without any legal process to do so,' Mr Pissetzky said to the BBC. 'There was no extradition, there were no legal steps taken, there were no court documents filed, it was simply a call to the FBI. He is not a citizen of the United States, the U.S. had absolutely no authority to take him.'
Achham – Western Nepal. While school children in city areas are attending online classes, those in rural areas do not have the resources to do the same. Most spend their time roaming around villages, playing in groups or herding their livestock, unaware of the risk of contracting or spreading the coronavirus. Maina Jaishi, a mother of three children and a resident of Ward No. 8 of Dhakari, said she has been facing difficulties to take care of her children during the pandemic. "We can't keep them indoors all day and they go out to play with friends when I'm away at work," said Maina. "I am constantly worried that they might contract coronavirus since newcomers to the village have tested positive for the virus."
Police on Wednesday arrested six people from Chandragiri Municipality-15 in Kathmandu while trying to sell what is believed to be pages taken out of ancient Buddhist scripture written with gold letters. Following a tip-off, a special team from the Metropolitan Police Circle in Thankot and the Metropolitan Police Crime Division arrested the six men from Dhungeadda. "We have recovered 16 pages of Buddhist scriptures written with golden ink from the suspects," said Deputy Superintendent of Police Rajkumar Kc, spokesperson for the Kathmandu Metropolitan Police Range. "We are yet to ascertain where the suspects got those pages, which we believe are ancient and of religious importance." Police have identified the six men they were allegedly trying to sell the relic for Rs 50 million.
Big masses of snow have turned pink in the Italian Alps, creating a "watermelon" colour in parts of the Presena Glacier, located in the Italian mountain region of Trentino-Alto Adige. Numerous photos from the area show a light-pink shade of snow, visible even on satellite photos. According to Italian scientists, the strange phenomenon is likely a result of Chlamydomonas Nivalis algae growth, which is not dangerous by itself but may accelerate ice melting, as it makes snow darker.
A French man could be executed by a firing squared in Indonesia after being accused of molesting more than 300 children and beating those who refused to have sex with him. Police said they arrested pensioner Francois Abello Camille, 65, last month at a hotel in Indonesia's capital Jakarta, where they discovered two underaged girls in his room. Camille faces death by firing squad or life in prison if convicted on the raft of charges – including accusations he filmed the illicit encounters – under Indonesia's child protection laws. Investigators say they found videos on Camille's laptop computer that showed him performing illegal sex acts on hundreds of children aged between 10 and 17. 'He would approach children and lure them by offering them work as models,' Jakarta police chief Nana Sudjana told reporters. 'The ones who agreed to have sex with him would get paid between 250,000 and one million rupiah ($17-70).
WPBF 25: Former New York corrections deputy warden warns feds can't keep Ghislaine Maxwell safe at Metropolitan Detention Center.
Outside of the Wall Street executives that did business with child sex trafficker Jeffrey Epstein, his first lieutenant, Ghislaine Maxwell, knows more about his Wall Street secrets than any other living person. Maxwell was arrested and indicted by the U.S. Attorney's Office for the Southern District of New York (part of the U.S. Justice Department) on July 2, less than two weeks after the head of that office, Geoffrey Berman, was abruptly fired from his job by Attorney General William Barr. Berman's former Deputy, Audrey Strauss, conducted the press conference regarding the Maxwell arrest. We immediately noticed a peculiarity about the indictment document provided by Strauss. It covered only a brief 4-year period, running from 1994 through 1997. One of the main accusers of Maxwell, Virginia (Roberts) Giuffre, has credibly indicated in previous court filings that Epstein and Maxwell sexually abused her "between 1999 and 2002." That should lengthen the scope of the indictment by five additional years. The Southern District of New York, home to some of the biggest and most powerful Wall Street banks and their attorneys, who cycle in and out of jobs in that office, might have a strong reason to want to keep Giuffre's claims out of this case. Giuffre has stated the following in a previous court filing against Epstein: "In addition to being continually exploited to satisfy Defendant's every sexual whim, Plaintiff was also required to be sexually exploited by Defendant's adult male peers, including royalty, politicians, academicians, businessmen, and/or other professional and personal acquaintances…most of these acts of abuse occurred during a time when Defendant knew that Plaintiff was approximately 15, 16 and 17 years old…" The youth-focused charity said it paid honoraria to Trudeau's mother, Margaret, amounting to C$250,000 (US$184,000) for speaking at about 28 events, while his brother Alexandre spoke at eight events and received about C$32,000 (US$23,540). The events took place between 2016 and 2020.
Canadian charity in Justin Trudeau ethics probe paid over US$200,000 to PM's mother and brother. Prime minister under investigation for conflict of interest after government awarded US$660 million contract to WE Charity.Organisation said last week it would no longer be administering the student grant programme for which the contract was awarded. The Canadian charity at the heart of a conflict-of-interest investigation into Justin Trudeau disclosed on Thursday that it had paid the Canadian prime minister's mother and brother a total of more than C$280,000 (US$206,000) to speak at events it organised. The WE Charity Canada statement confirmed earlier reports by news site Canadaland, as well as the Canadian Broadcasting Corporation (CBC).The youth-focused charity said it paid honoraria to Trudeau's mother, Margaret, amounting to C$250,000 (US$184,000) for speaking at about 28 events, while his brother Alexandre spoke at eight events and received about C$32,000 (US$23,540). The events took place between 2016 and 2020.
At least $4 million in PPP loans went to a real estate company at the center of a federal bribery investigation involving a Los Angeles city councilman. Shenzhen New World Group, owned by Chinese billionaire Wei Huang, received two PPP loans for hotels it operates in Los Angeles. Charging documents against Huizar make it clear that the real estate company in question is Shenzhen New World Group, which is working on a 77-story skyscraper project in Huizar's district. The Trump administration loaned between $4 million and $10 million in coronavirus relief funds to a real estate company whose chairman allegedly bribed a Los Angeles city councilman with nearly $260,000 in poker chips, escort services and $600,000 in payments to settle a sexual harassment lawsuit. Jose Huizar, the city councilman, was arrested on charges that he accepted $1.5 million in bribes to help the developers of various real estate projects in downtown L.A.
Attorney General Bill Barr should transfer Jeffrey Epstein's alleged 'madam' to Rikers Island while her case plays out, as the Metropolitan Detention Center (MDC) in Brooklyn is ill-equipped to handle the high-profile inmate. "I don't think the feds can handle these prisoners, such high-profile prisoners like Maxwell or Epstein," former NYC Department of Corrections Deputy Warden Ed Gavin told Fox News' Tucker Carlson on Wednesday. "If I were William Barr, what I would do is, I would seek to obtain a substitute jail order and I would try to have Ms. Maxwell placed on Rikers Island with the New York City Department of Corrections." "In 2011, there was a female corrections officer there, she had sex on duty with eight employees," he said. "Two of them were superior officers. She also had sex with two inmates … We [also] have a lieutenant and two corrections officers recently who were convicted of sexually abusing over 10 women … So I don't think that that facility is capable of handling it [Maxwell], there's just too much that's gone on there recently, and I don't think any female inmate should be housed there".
A small fragment of fossilized dinosaur jawbone has been discovered by scientists in Alaska, granting further insight into the fauna of that region millions of years ago. According to phys.org, the bone fragment belonged to a "juvenile" dinosaur from the "dromaeosaurid" family of predatory dinosaurs "closely related to birds", some of whose better-known members include Velociraptors, a breed popularized by the movie "Jurassic Park". As the media outlet points out, while these dinosaurs "lived all over the world", their bones are fairly delicate and "rarely preserve well in the fossil record", thus hampering researchers' efforts to study how they moved between continents.
The rapper revealed his diagnosis of bipolar disorder back in 2017, but has opted out of medication because it apparently blunts his creativity. There's now a rumour that he is discussing his presidential prospects in the midst of a bipolar episode. His family and close ones are said to be "worried" but apparently believe that he will recover just as he has done in the past. However, this time, the problem is aggravated by Kanye's "proclamations", as TMZ put it in an apparent reference to his recent splash-making Forbes interview. The rapper, who announced his 2020 presidential bid on Saturday, this week floated anti-abortion and anti-vax views, announced the creation of a "Birthday Party", talked about restoring "fear and Love of God" to schools, and disavowed Donald Trump, saying he mainly liked him because there are saxophones in the lobbies of Trump hotels.
Customs officers in Russia's major eastern port city of Vladivostok have seized a civilian helicopter from Germany that recorded 55 times the permissible levels of radiation, a spokeswoman for the city's customs service said on Tuesday. "A civilian helicopter (Bo 105) with 55 times the permissible levels of radiation was discovered by customs officers at the Vladivostok sea checkpoint. The hazardous radioactive object had arrived from Germany in a container bound for a Russian company," the spokeswoman, Asya Berezhnaya, told reporters. According to Maksim Shesternin, the head of the regional customs control division for radioactive materials, a reading of more than five microsieverts per hour was observed when the helicopter was examined. Since the beginning of 2020, customs officers in Vladivostok have identified 14 separate objects bound for Russia that have exceeded the permitted levels of radiation.
The new proposal, modelled on the consent clause previously introduced by Finland's neighbour Sweden, redefines the concept of harassment, which could lead to more convictions.
Finland's Justice Ministry has proposed redefining rape in terms of consent and lack thereof rather than in terms of violence, as is the case currently. The amended sex crime law will speak of "voluntary consent", thus broadening the definition of rape. According to the working group report, lack of consent could be expressed verbally, using gestures or by way of "other actions". Consent will not be assumed if a rape victim is rendered passive by fear or restrictions, or because they are heavily intoxicated or asleep. "The central criterion would be that the other party has not engaged in the act voluntarily. A no is always a no," legal counsellor Sami Kiriakos said, as quoted by the newspaper Hufvudstadsbladet. The proposal also redefines sexual harassment to include verbal abuse as well as using images or exposing oneself in public. As of today, disseminating sexual images or videos without the permission of the persons shown in the material is treated as defamation or infringement of personal privacy. According to Finnish experts, broadening the range of criminal offences would also increase the number of criminal investigations.
Astronomers in Australia have discovered four unexplained circular objects, each with an unusual glow, that defies current understanding and may represent a new type of phenomenon hitherto unseen by humanity. The brightly-edged, ring-shaped objects, dubbed odd radio circles, or ORCs for short, were discovered by astrophysicist Professor Ray Norris using the Australian Square Kilometre Array Pathfinder (ASKAP) telescope. He happened upon the unexplained phenomena while mapping the night sky as part of the Evolutionary Map of the Universe (EMU) project. The ORCs represent a new type of object found in radioastronomy images," Norris says in a yet to be peer-reviewed paper. The professor theorized that they represent a "spherical shock wave" from an "transient event" in another galaxy. Another possible answer is that they are a new category of a known phenomenon seen from a fresh angle. "Such as the jets of a radio galaxy or blazar when seen end-on, down the 'barrel' of the jet," Norris explained. Three of the four were spotted in 2019 while the remaining one was discovered in data from 2013 collected by the Giant Metrewave Radio Telescope in India.
In the United States, two-thirds of police cars are Fords. Now, some Ford employees want to put a stop to that, with a number of black and white workers penning a letter demanding that the car manufacturer backs out of the police market. The internal letter is made out to Ford's CEO Jim Hackett, it states that throughout the company's history "the vehicles that Ford employees design and build have been used as accessories to police brutality and oppression" and that the car maker has exacerbated "racist policing practices that plague our society."
A survey of hundreds of Russian medics has revealed that almost 60% do not believe official figures on the effects of the Covid-19 pandemic in Russia to be accurate. The poll, carried out for pan-European researchers ESOMAR, found that almost half of the 502 respondents (49%) think the authorities have underestimated cases of coronavirus infection. 47% expressed the view that the number of deaths from the disease are higher than reported. The official sickness and death figures are trusted by 23% and 21% of doctors respectively, while nine and 11% of respondents actually think that the authorities are overstating the numbers. More than half of the medics questioned have experience working with patients with Covid-19 symptoms. 16% of them worked directly with those infected by the coronavirus.
Retired Admiral and former Navy SEAL McRaven, best known for organising and executing Operation Neptune Spear, the 2011 special ops raid to kill al-Qaeda leader Osama bin Laden, has stepped up his criticism of the US education system, this time focusing on kindergarten to grade 12. "When I was chancellor [of the University of Texas] I would have a lot of town hall meetings, or meetings with our alumni, and that question [of K-12 education] always came up," McRaven said, speaking at the online Aspen Ideas Festival conference last week. "They would always ask…'What's your Number 1 national security issue?' I think my answer always surprised them. I said 'K through 12 education'… I stand by that. And it wasn't because I was chancellor. It was because I recognise that unless we are giving opportunity and a quality education to the young men and women in the United States, then we won't have the right people to be able to make the right decisions about our national security. They won't have an understanding of different cultures, they won't have an understanding of different ideas. They won't be critical thinkers."
South Korean police said on Thursday they are searching for the mayor of Seoul, Park Won-soon, after his daughter reported him missing. The Seoul Metropolitan Police Agency said officers were searching for him around Sungbuk-dong, a district in northern Seoul, where his phone signal was last detected. His daughter reported him missing at 5:17 p.m. (0817 UTC) and said his phone was off. Park left the official residence at around 10:40 a.m., wearing a black hat and a backpack, having cancelled a policy meeting that was scheduled for Thursday morning, according to multiple local reports. Update – Longtime Seoul City Mayor Park Won-soon was found dead. The mayor's body was found at Mt Bugak in northern Seoul around midnight, near where his phone signal had last been detected, the Seoul Metropolitan Police Agency said. The agency did not give a cause of death.
Ghislaine Maxwell will use her secret copies of the late financier's sex tapes to avoid prison, her former friend told the Daily Mail. "She has copies of everything Epstein had. They could implicate some twisted movers and shakers," adding that "Ghislaine has always been as cunning as they come. She wasn't going to be with Epstein all those years and not have some insurance." The friend also stressed that "Not only did Epstein like to capture himself with underage girls on camera – he wanted to make sure he had something to hold over the rich and powerful men who took advantage of his sick largesse," adding that "I'll bet anything that once it comes out that Ghislaine has those tapes these men will be quaking in their Italian leather boots. Ghislaine made sure that she socked away thumb drives of it all. She knows where all the bodies are buried and she'll use whatever she had to save her[self]." Ghislaine Maxwell who certainly has many lurid secrets to tell.
They have their own governments, passports, citizens and even currency in some cases. But for various complicated reasons, a number of countries around the world do not officially exist, some are even left off maps. Guilherme Canever, a Brazilian author traveled to 16 unrecognized nations between 2009 and 2014 and recounts his experiences in his latest book "Unrecognized Nations: Travels To Countries That Do Not Exist," which is released this month. Those that aren't recognized by the UN are not formally acknowledged as countries, even if they're recognized by other nations, and can face many struggles as a result. Canever became fascinated with disputed countries after visiting Somaliland, an aspiring country located in the Horn of Africa that has sought independence from Somalia since 1991. Others are Transnistria, Repubblic of Artsakh and Abcasia.
Brazilian President Jair Bolsonaro, who has tested positive for COVID-19, said on Facebook Thursday that he was "very well" and again advocated the use of the controversial drug hydroxychloroquine. Bolsonaro, 65, appeared in his weekly Facebook Live post at his official residence. He appeared to be in good shape and was not accompanied, as is often the case, by ministers or senior officials, and the usual sign language interpreter was not present. Since the beginning of the crisis, the far-right president has dismissed the seriousness of the epidemic and criticized containment measures ordered by governors in Brazilian states.
News Burst 11-12 July 2020 – Bonus IMG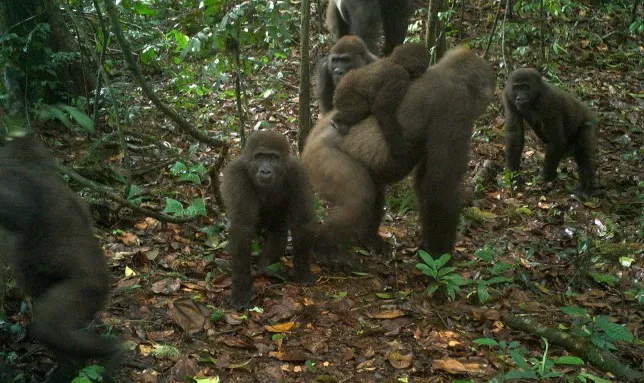 This photo taken by a camera trap shows a group of Cross River gorillas in the Mbe Mountains of Nigeria on Monday. Cross River gorillas are extremely endangered and only 300 are believed to still be alive on the planet. They are the rarest of all the great apes. These new photos, captured remotely earlier this year, show the creatures in the mountainous region of southern Nigeria. And even better, the shots reveal a number of infant gorillas as well. These pictures are fuelling hopes that the Cross River gorillas are surviving and reproducing.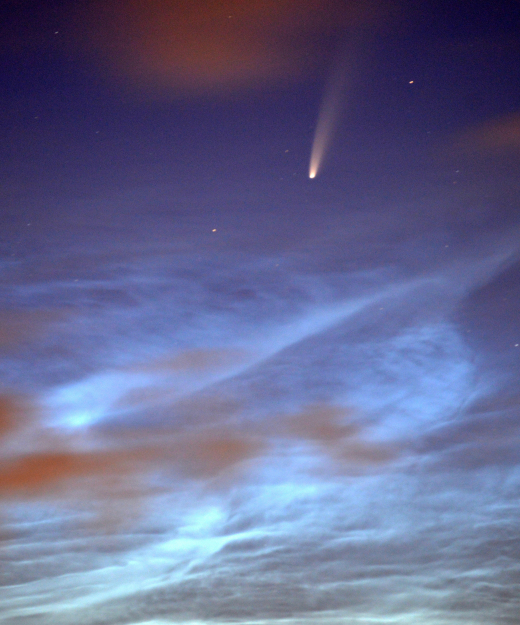 On July 3rd, Comet NEOWISE passed by the sun near the orbit of Mercury. The oversized nucleus helped it survive the encounter, which some comets would have found too hot to handle. Now NEOWISE's sun-heated core is spewing massive amounts of dust and gas, creating a worldwide sensation.
"This morning, July 11th, I got a great view of Comet NEOWISE," says Vincent Phillips of Hale village near Liverpool UK. "It was very easy to spot in the NNE before sunrise."
Observing tips: Wake up about 90 minutes before sunrise, find a place with a clear horizon, and look northeast. The comet is visible to the naked eye as a fuzzy patch with a tail. Binoculars are recommended for full effect.
News Burst 11-12 July 2020 – Bonus Video
New Crop Circle – Easton Royal, Wiltshire
News Burst 11-12 July 2020 – Solar Activity
Plasma filaments are becoming more active, including an eruption off the NW limb. The sun is solidly entering Solar Cycle 25 here in 2020 (it takes 6-18 months to ramp back up to solar flaring).
News Burst 11-12 July 2020 – Active Weather
In the Eastern Pacific there are two areas of disturbance, the first on the left is the Tropical Storm Cristina with winds from 55 to 56 knots. Pressure 996 hPa moving westward at 12 knots. It is weakening.
The second on the right is a low pressure system located a couple of hundred miles southeast of Acapulco, Mexico, has become a little better defined this morning. Although upper-level winds are currently only marginally conducive for development of a tropical cyclone, environmental conditions are expected to become more favorable for the formation of a tropical depression in two or three days while the system moves quickly west-northwestward to westward, well south of the coast of Mexico.
* Formation chance through 48 hours…medium…50 percent.
* Formation chance through 5 days…high…80 percent.
News Burst 11-12 July 2020 – Earthquakes
Europe – M4.3 Azores Islands, Portugal
---
North America – M4.0 Idaho
---
Central America – M4.2 Mexico
---
South America – M5.3 South Sanwich Islands
---
Asia – M4.9 Iran, North Philippines
---
Pacific – M5.0 Tonga
---
Deepest EQ – M4.3 623 km Fiji
This image shows the situation of the last 12 hours of movements towards Europe. The oldest earthquake is the M4.9 in Iran, around 10 UTC on July 10. There are two deep shocks, just over 200 km, of M4.1 and M4.3 in northern Afghanistan which occurred around 4 UTC today. Shortly before or at the same time there is also a 'train' of earthquakes in Turkey which has its head in the shock east of Crete in Greece of M4.2. A twin shock hit the Azores Islands in the late UTC morning. We will see if there will be the filling of the intermediate points with the most probable areas Italy and of the border area between Algeria and Tunisia, up to high M3 possible in both zones.
Earthquakes Last 24 Hours – M4 and Above
Can hydroxychloroquine (HCQ) be a treatment option for Covid-19, or should it be banned? You and I may never know, because Google, Twitter and Facebook are censoring science & information on physicians' treatments for the virus.
There's no longer any doubt. New Solar Cycle 25 is coming to life. The latest sign came today with the emergence of a new sunspot group. Provisionally numbered AR2770, the sunspot has two dark cores (each about the size of Earth) and is crackling with minor B-class solar flares. Its potential for even stronger flares will become clear in the days ahead as the sunspot turns toward Earth, more fully revealing its magnetic complexity.
California on Wednesday charged the leader of a Mexican megachurch with child rape and human trafficking, months after a court dismissed the previous allegations because of prosecution errors. Naasón Joaquín García, the self-proclaimed apostle of La Luz del Mundo, was charged with three dozen felony counts.
Clicks on the Ads Keep Us Alive 🙂
Enlightenment
It is paradoxical, yet true, to say, that the more we know, the more ignorant we become in the absolute sense, for it is only through enlightenment that we become conscious of our limitations. Precisely one of the most gratifying results of intellectual evolution is the continuous opening up of new and greater prospects.
Nikola Tesla
2020 Server Cost Support - 3200 €

87%

87%
Support Disclosure News Italia
We are working hard, and every day, to keep this blog. Like you we are fighting for the truth. If you want to work with us you are welcome, please email us! The blog costs are at our expense, advertising reimburse us very marginally so if you like our work and find it useful buy usacoffee clicking the donation button below that will directu to your PayPal. We need the help of people like you!
Bitcoin & Cryptocurrencies Donation
1M9dohWnHBwNLSPd6afRaJackrw6wK9bxY