Cosmic Update 29 November 2022
Intense And Building!
Cosmic Update 29 November 2022 – Intense And Building! – By Dr. Schavi M. Ali
At noon on Tuesday, November 29th, 2002, solar winds are surging at "659.7" km/s—almost "700" km/s!
They are thus VERY STRONG.
The magnetosphere is being tightly impacted by particle plasma, and the "KP Index is rated as "EXTREME" in big bright red lettering by NASA.
Clicks on the Ads Keep Us Alive 😊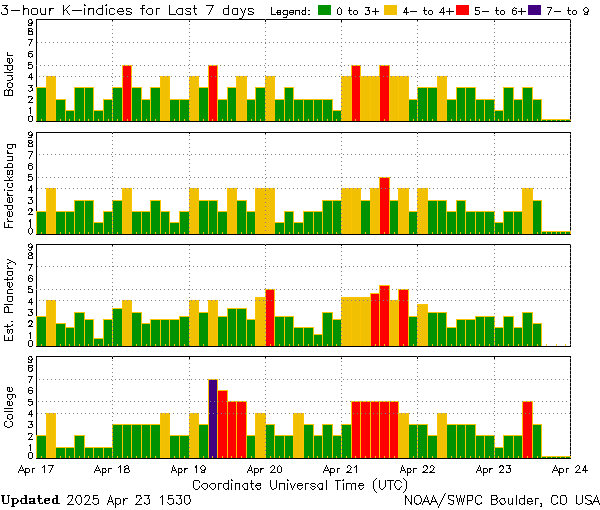 Planetary KP Index
Cosmic Update 29 November 2022
Solar flares are in the mid "C-Class" ranges. All of this indicates that our planet is receiving massive activations.
Also, there have been today a total thus far of 244 earthquakes in the upper "4.0" and "5.0" magnitude ranges with a "5.3" occurring in Reykjanes Ridge which separates the North American and Eurasian plates in the North Atlantic just south of Iceland.
This is one of the world's major plate boundaries.
The number of quakes today far exceeds those in the 100s which have been happening daily for many decades.
We are receiving signs daily that our planet is definitely being transformed inwardly and outwardly.
Solar energetics (flares, winds, CMEs, etc.) will build more as our Sun moves closer to an exact conjunction with "The Great Attractor" and as our Moon arrives closer to its "Super Fullness", and further, as we approach the "pre-shadow" of the next Mercury Retrograde. Please refer to the recent articles written about these cosmic events for details.
Emotions are beginning to heighten more due to local, national, and international circumstances. The four most intensive discussions are about the USA political chaos, the USA strike of the "United Auto Workers" (UAW) which has now affected auto plants and suppliers of auto parts in Canada, the continuing war between Ukraine and Russia with the USA having sent billions of dollars to Ukraine and wanting to send more, and the immigration crisis as hundreds of thousands of foreigners flood the USA.
Clicks on the Ads Keep Us Alive ✨
Slave
The best slave is the one who thinks he is free.
Johann Wolfgang Goethe
2023 Server & Site Tech Support 4200 €

70%

70%
Support Disclosure News Italia
We are working hard, and every day, to keep this blog. Like you we are fighting for the truth. If you want to work with us you are welcome, please email us! The blog costs are at our expense, advertising reimburse us very marginally so if you like our work and find it useful buy us a coffee clicking the donation button below that will direct you to your PayPal. We need the help of people like you!
Bitcoin & Cryptocurrencies Donation
1M9dohWnHBwNLSPd6afRaJackrw6wK9bxY