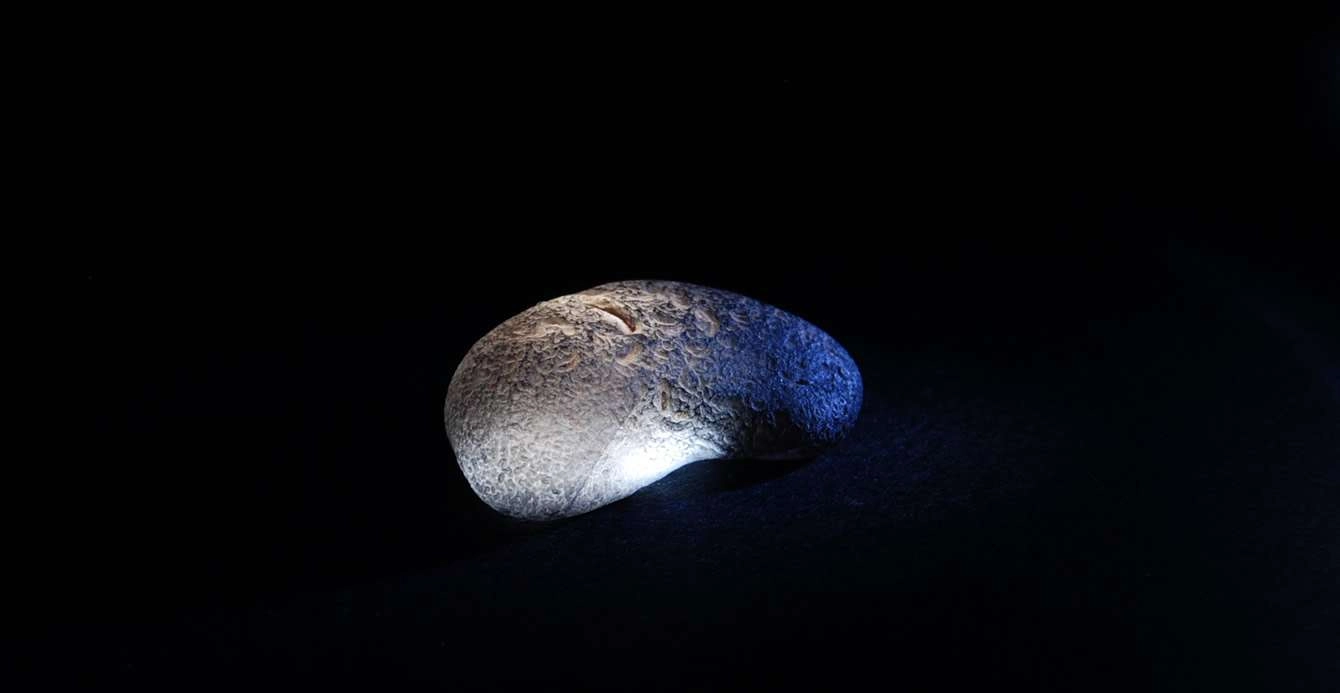 Cintamani Stone – The Stone Of The Stars
The Cintamani Stones come from a meteorite that was once on a planet in the star system of Sirius, according to Cobra.
Luis Maertens of Bolivia says that Cintamani's original main stone is an egg-shaped stone brought here many years ago by 40 different Ascended Beings from different worlds as a special tool to help the Earth through its ongoing transition.
This main egg-shaped Cintamani had been placed, some time ago, in the Gobi desert.
Cintamani Stones Available
Translucent Cintamani Stones

Striped Cintamani Stones

Opaque Cintamani Stones
From Left, Cintamani Traslucent 7.7 grams, Opaue 5.7 grams, Opaque 3.8 grams.
Less than 1 gram

1  gram

1,5 grams

2 grams

2,5 grams

3 grams

3,5 grams

4 grams

4,5 grams

5 grams

5,5 grams
Shortly before 2012, the Cintamani Stone was then transferred to the primary and main female vortex on the planet.
This vortex, which is close to the Andes, is below Lake Titicaca in Bolivia.
Before the late 1950s the primary vortex was male and was in the Himalayas.
Luis indicated that this Cintamani Main stone is actually under the sacred mountain of Tehama in Bolivia.
Cintamani Traslucent 7.7 Grams Gram Backlight and Side Lighting
Cintamani Traslucent 2.7 Gram Backlit with White Light
It was officially and formally activated by the Confederacion as a receiver of cosmic rays designed to help stabilize the etheric psionic terrestrial grid in December 2012 and is now the main hub, transducer and receiver for the expansion energies of Light and the forces of the Galactic Central Sun, which is increasing the vibration of all life streams on earth.
Luis also indicated that this main egg-shaped Cintamani operates in combination with the Golden Sun Disc, which is also found in the Andes mountains below Lake Titicaca.
These two objects are used to focus the cosmic energies that radiate on the Earth and are used by the Masters to elevate the vibrations of the Earth itself and the incarnated souls who are sensitive to these positive emanations.
Cobra has stated that many fragments of this same meteorite have been placed in various locations across the earth.
Translucent Striped 2.5 Grams Backlit with White Light
If Cobra is correct these smaller fragments will provide a resonance to the main Cintamani egg that is anchoring the light on Earth under the sacred mountain Tehama in Bolivia.
The stones have powerful effects and the awareness can become extremely profound.
Many others who have received them are reporting similar experiences. There is no magic bullet, crystal or stone or technology that illuminates anyone or causes immediate ascension or higher states of consciousness.
However, the Cintamani Stone is a type of resonance and vibrational stabilization instrument.
You can call this technology a Zero Point Energy.
All Cintamani stones are tachyonized because they come from outer space!
Cintamani is a special stone and should be treated with respect but should not be worshiped or unduly attached to the stone or its effects.
The Cintamani Stones are actually like crystals, in a sense, and some specimens of the highest grade are somewhat translucent.
Since they are like crystals, it is best not to damage or scratch them. The Cintamani Stones however are not easy to scratch like crystals, which is a good thing.
Keep it preferably near. You can keep on the person if possible.
To clean these stones, we would suggest salt and sea water with a soft, not too abrasive, cloth and possibly organic soap containing no sulphates.
Body dirt or grease does not negatively affect the energy field of the stones.
For more info or to buy your Cintamani Stone please send a message 🙂
For the Cintamani Stone no refunds or replacements are made, the Stones are certified by the New Hempshire Meteorological Institute.